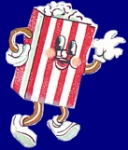 WE MAKE OUR POPCORN THE OLD THEATRE WAY WITH A SPECIAL POPCORN SALT AND WITH COCONUT OILTHAT GIVES IT THE GREAT SMELL AND FLAVOR.
FRENCH FRIES ARE ONE OF OUR BEST SELLERS AND OVER HALF ARE ORDERED WITH OUR NACHO CHEESE ON THEM.
BURGERS, CHEESEBURGERS AND HOT DOGS.
J&J LARGE PRETZELS
NACHOS WITH CHEESE
JALAPENO'S PEPPERS
FREEZE POPS
ICE CREAM SANDWICHES
GREAT COFFEE
SWISS MISS HOT CHOCOLATE
HONEY BUNS, MUFFINS, CINNAMON BUNS, AND DOUGHNUTS.
SINGLE SLICES OF PIZZA WITH CHEESE AND PEPPERONI
A GOOD VARIETY OF THEATRE CANDY AND COTTON CANDY, INCLUDING GLO-POPS
BOTTLED WATER AND HAVE A VARIETY OF COKE PRODUCTS.